Water Monitors
CARBON STEEL, 63 mm WATERWAY, ISI MARKED
Stand post monitors are used in fire fighting for applying large quantity of water/foam from a distance onto the risk area.
The monitors are normally installed onto stand posts, fitted onto the fire water network, or mounted on trailers/trolleys.
Manual swivel joints allow operators to adjust the position of the monitor (or leave it unattended, if required).

Brief Description
Stand Post type monitor, ISI Marked (IS:8442), nominal waterway size 63mm, flow capacity 1750 lpm at 7 kg/cm2 inlet pressure. Monitor shall be constructed of M.S. pipes/ bends, Gunmetal Swivel Joints (manual), have suitable inlet flange and solid jet nozzle of specified capacity. Monitor shall give minimum throw as specified in IS:8442.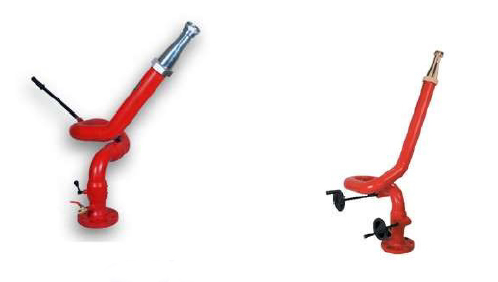 Material
Carbon Steel
Carbon Steel
Carbon Steel
Maximum Operating Pressure
12Bar (175psi)
12Bar (175psi)
12Bar (175psi)
Flow Rate
1750 LPM @ 7 Bar
2580 LPM @ 7 Bar
3750 LPM @ 7 Bar
Throw Range
55 Meters
55 Meters
55 Meters
Inlet Flange
100 NB (4") Raised
Flange ANSI B 16.5150#
00 NB (4") Raised Flange ANSI B 16.5150#
150 NB (6") Raised Flange ANSI B 16.5150#
Monitor Outlet
75 NB (3') water way.
Jet Nozzle
Optional: Jet - Spray
Nozzle
75 NB (3') water way.
Jet Nozzle
Optional: Jet – Spray
Nozzle
100 NB (4") water way. Jet Nozzle Optional: Jet – Spray Nozzle

Monitor Movement

Vertical Movement - Manual Swivel Operation with Lock Horizontal Movement - Manual Swivel Operation With Lock
Vertical Movement - Manual Swivel Operation with Lock Horizontal Movement
- Manual Swivel
Operation With Lock
Vertical Movement
- Manual Swivel
Operation with Lock Horizontal Movement - Manual Swivel Operation With Lock
Hydrostatic Test Pressure
23 Bar
23 Bar
23 Bar
Monitor Rotation
360° continuous
360° continuous
360° continuous
Monitor Elevation
+90° above horizontal
-45° below horizontal
+90° above horizontal
-45° below horizontal
+90° above horizontal
-45° below horizontal
Finish
Red Poiyurethane
Red Poiyurethane
Red Poiyurethane