LHS Cable
LINEAR HEAT SENSOR CABLE is also called as Linear Heat Detection Cable. LHS cable is made up of 2 conductors which are covered by heat sensitive polymers Linear Heat Sensor cable is a flexible, Durable and cost-effective fixed temperature fire detector, suitable for protecting a wide range of Commercial and industrial fire applications where spot-type heat detectors are unsuitable. Simple and easy- to-install, the LHS cable Contacts directly to the fire alarm panel initiating circuit. A short circuit along the LHS cable indicates a zone alarm condition. The LHS cable is available in a variety of operating temperatures and jackets.
The heat from a fire causes the LHS cable's special insulation to melt at a specific temperature, allowing the two conductors to short together, thus creating an alarm condition on the fire control panel.
• Open Area Protection
• Belt Conveyers
• Tunnels
• Aircraft Hangars
• Cable Trays
• Floating Roof Tanks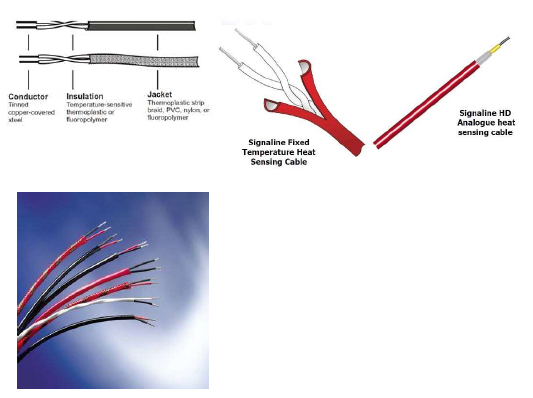 Specifications
Twin-conductor switching heat sensing cable
Effective monitoring at precise point of risk
Economical, reliable and durable detection
Simple and easy to install
Applied where other types of fire detection are unsuitable
Environmental -65oC to +200°C
5 detection temperature ranges from 61oC to 238oC
Cable length 0-10Km
Simple interface to any BS5839 system
Fully monitored
Full range of installation accessories available various outer sheath options.
Cable available pre-cut length 50m - 10,000m (50m variables)
Applications:
Car Parks
Cable Tunnels
Cable Tray
Conveyor Belts
Escalators
Moving Walkways
Bulk Storage Racks
Floor & Ceiling Voids
Installation:
Ease of handling and stripping of the cable permits quick installation and allows conventional or proprietary methods of support to be employed.
Nail type cable clips should not be used. Care must be taken to avoid mechanical impact, kinking, unacceptable heat sources or other factors which may affect the integrity and functionality of the cable.