Double Hydrant Valves
Hydrant valves (also called Landing valves) provide the means to draw water for firefighting from the Fire water piping network. They are normally mounted onto stand posts, fitted on the fire water network.
Brief Description : Hydrant Valve (Double headed), as per IS: 5290, made of Stainless Steel
(SS304), having 100 mm flanged inlet, and 2 Nos. 63 mm Female Instantenous outlets, C.I. handwheels for hydrant operation, and PVC blank caps with chain. Body duly painted with 2 coats of superior quality paint. H.P. tested to 21 kgf/cm2 (body) and 14 kgf/cm2 (seat). Flow 1800 lpm (min) at 7 kgf/cm2.
GENERAL DATA
Size 63 mm Inlet Flanged 100mm NB IS: 1538 / ANSI B 16.5 150 # Outlet Female Inst. 2 Nos. 63mm Female Inst. Adaptor Reference Standard IS: 5290 TYPE B
MATERIAL OF CONSTRUCTION
Body, Bonnets, Female outlet and parts IS: 3444 Gr. I (SS304) Spindle IS: 3444 Gr. I (SS304)
Spring Stainless Steel Wire IS: 6258 Hand Wheel C.I. IS: 210 FG 200 Washer Rubber IS: 937 Type A
TESTING AND QUALITY CONTROL
Dimensional check Dimensions as per IS: 5290 Type B Water Tightness Seat Test 14 kgf/cm Hydrostatic Pressure Test 21 kgf/cm for 2.5 minutes. for 2.5 minutes.
Performance requirements Flow test : 1800 lpm (min) at 7 kg/cm2 pressure Documentation Internal inspection report, supplier's certificates, approved laboratory test certificates
OPERATIONAL/ TECHNICAL DATA
Working pressure range upto 10 Kg/cm2 Weight (approx.) 17.0 Kgs.

FINISH
Body Painted - Fire Red Color as per IS: 5 Shade No. 536 Wheel Painted - Black Paint Parts Polished
APPROVALS & MARKING
Marking on Hydrant valve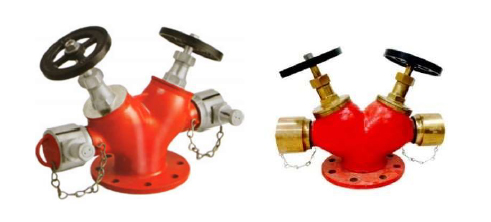 | | |
| --- | --- |
| Valve Body | GunMetal-IS: 318L TB-2, Optional: Steel IS:3444Gr.I or IS 3444 Gr . IV |
| Hand Wheel | Cast Iron |
| Test Pressure | 23 |
| Inlet Waterway | 75NB (3"). ANSI B 16.5 150# |
| Outlet | 63mm |
| Finish | Red Polyurethane |